About Sheridan Dance Academy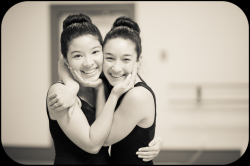 ---
Sheridan Dance Academy opened in Powell River in 2008. Artistic Director, Mariah Sheridan Runions, has been teaching dance since 2002, and received her A.D.A.P.T Certification in 2006. Sheridan Dance Academy offers a wide level of recreational dance classes in Jazz, Tap, Ballet, Musical Theatre, Hip Hop, and more - all for the Non Competitive/Just for FUN students.
SDA implemented its Competitive Exam Program Fall 2011 and has had great success. SDA Dancers have received Trophies and Gold Medals in Vancouver, Victoria, Courtenay, and Powell River. Select dancers are invited to take A.D.A.P.T Jazz Dance Exams, and take part in three Dance Festivals.
You can learn more about A.D.A.P.T and their exams by visiting their website:
www.adaptsyllabus.com
.
Sheridan Dance Academy classes are available for beginner and experienced dancers 18 months to adult.
SDA boasts two spacious studios and has more certified, accredited instructors than any other studio in the area. We look forward to passing our knowledge onto your child.
Visit our Classes Page to read about specific genres, age groups, and schedules.

A Quiz for Parents
Answer with YES or NO
1. I'm confident that my child gets enough physical fitness
2. My child's school friends are great kids, and they are there to support one another
3. I am happy with the (limited) time my child spends in front of a screen
4. My child feels like she/he has a solid support system with their current friend base
If you answered NO to ANY of these questions we can help! Click THIS link and opt in to our Monthly Newsletter. We'll keep you in the loop about our upcoming happenings, community events and registration information.
We are here to Help!
In an age of screens, social media, and cyber bullying we are focused on exposing our students to face to face interactions with positive instructors and other like minded individuals. Our dancers quickly build friendships here, that can last a lifetime.
As a parent (like many of our teachers) we get it! This is important to us too!

How our Amazing Dance Studio came to be
As a child my family moved a lot. I attended six schools by the time I finished seventh grade.
The solid foundation in my life? My dance studio.
The teachers were encouraging and soon became my role models; I looked forward to seeing them every week. It was a place I could let loose, have fun, and be encouraged by positive, outstanding adults who believed in me! My childhood dance studio was a place that I could count on it being there week after week, year after year, whether I had moved houses or changed schools. I began imagining my future dance studio by the first grade, and although my imagination often lead me towards other career ideas, I always circled back to being a dance instructor, and owning my own studio – a studio that would positively influence kids, like my dance studio did for me. It became my life's mission – and here we are!!!
Fast forward to present day.
I'm happy to say – I AM that person. Sheridan Dance Academy IS that place. Our staff is focused on begin positive role models for our students. We see hard working kids and we give them OUR ALL. They are our NUMBER ONE PRIORITY.
We welcome kids from ALL walks of life at SDA. We are not concerned with what school you go to, what part of town you live in, if you're new to Powell River, or if your family has been here for generations.
We are concerned with providing a welcome atmosphere where you know that your child's instructor is watching too keep their students engaged, and included. An atmosphere that encourages physical fitness and healthy living and MOST IMPORTANTLY a chance for your child to express themselves in a positive way! We are here to help build your child's confidence, encourage them to work hard, and feel supported. This is my mission for Sheridan Dance Academy – and I feel very confident that we are achieving it! We are HERE, and we hope to see you soon.