Sheridan Dance Academy Staff
---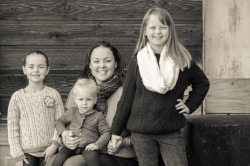 Mariah Sheridan Runions
Owner/Director

Mariah grew up dancing at Danette's School of Dance, in Campbell River, BC.
She studied Ballet, Jazz, Tap, and Musical Theatre, before going on to study Theatre at Capilano University in North Vancouver.
In 2003 Mariah began teaching dance in Fernie BC, before opening her own studio there in 2005.
In 2007 Mariah and her husband re-located to Powell River, and in 2008 Sheridan Dance Academy opened.
Mariah now has three daughters, and focuses to balance her time between, family and her love of running her business.
Mariah teaches Ballet, Jazz, Tap, AcroDance, Creative Movement, Parent & Tot Classes, as well as overseeing the Performance and Exam Programs at Sheridan Dance Academy.
Brittany Service
Office Manager/Showstopper Musical Theatre/Jazz Tap Combo

Brittany grew up in a musical household so it wasn't long until she began singing herself. In grade 9 she landed her first role as Adelaide in her high school musical Guys and Dolls.
She has had the honour of receiving the Frank Cameron trophy two years in a row for the Broadway Showtunes solo category. Brittany was awarded the Walter Batterham for highest overall score including duets, trios, and choral in the Powell River Festival of Performing Arts with one of her Musical Theatre solos.
In adulthood she has been in Far Off Broadway's Chicago and Funhouse. Brittany has directed and choreographed 3 Christmas productions - The Nutcracker, One FROZEN Night, and All Aboard the Polar Express.
Brittany looks forward to bringing her love of Musical Theatre and Tap to her students.